A Writer's Life Told Through Gifs
With all the Gifs people are using for #PitchWars on their blogs and tweets, I got a little inspired. So here's my personal life as a writer with a day job writing while also making time to freelance and write novel after novel…in Gif form.
I start my day much like this.
Often times,  I'll feel really strong.
Other times, there's a lot of this: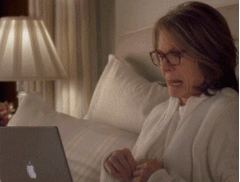 Which getting all weepy isn't a bad thing…unless you wrote a really sad scene or article but for some reason, you realize it's not nearly as emotion-packed as it should be. #Fail.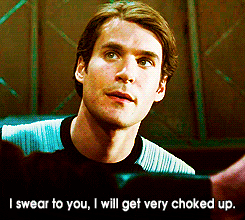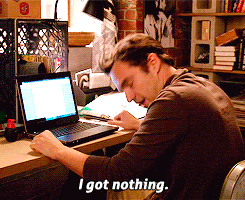 But despite the ups and downs of writing and revising and editing and critiquing and working, I trudge through because I'm  a writer and no matter what, I can't NOT write. I just may need more coffee…
Sometimes I can get in over my head when deadlines overlap or I'm suddenly inspired by one project that shouldn't be as important as some other one, but I just have to remind myself that I got this, and this is who I am.
Sometimes I lose track of time, and things like the real world slip by in a blink of an eye.
Hubs: "You coming to bed?"
Me: "What? This early? I'm still on a roll!"
Hubs: "It's 2 a.m."
…..oops.
The sleep deprivation doesn't get any better when I'm woken up in the middle of the night with epic ideas I need to write down right away. Sometimes I wish I could tell my characters to make an appointment only during waking hours, but alas, apparently that's not how one authors.

(oh how I wish!)
And despite my mad determination and creative spells, I am constantly impressed that my husband doesn't mind me being addicted to words or talking about my fictional characters all the time.
(Yes. That means he makes me feel like a Disney princess. Sorta. As long as I get to occasionally hit him in the head with a frying pan.)
But then as I approach the finish line of a draft…something happens. It's like the first 60,000 words were a cake walk and all of the sudden there is SO MUCH PRESSURE to get it right. Sometimes I allow a select group to read up to a certain part of an in-progress draft just to gauge what they want in an ending. Then I'll make a balance between giving them closure and still surprising them.
And when I'm done with a draft, there's a lot of this…
Until someone says, "Glad your book is finished! Half the battle, right?"
Don't get me started on the revision journey or the research-publishing-industry-so-you-know-what-you're-doing journey. Those are entirely different blog posts.
What's your writer life like– or if you're not a writer, how about life in general? Link me. The more Gifs the better! 😉